The other day I was reading an old
Ensign article
for a class and was impressed by this woman's honest confession of needing to learn to change herself midst the challenge of a daughter gone astray. I was touched by her honest confession that...
"I decided I needed to go back to the basics of the gospel and build a stronger, more solid spirituality. I wondered when was the last time, for instance, I had offered prayers of gratitude. Had I completely forgotten my many blessings? Had I actively looked for the good qualities of my struggling daughter? Did I appreciate the obedient members of my family, or had I forgotten their faithfulness? Where was the acknowledgment of joyful moments in my day? Was I stirred by a beautiful sunset? Did I enjoy a soft rainstorm or appreciate the purity of freshly fallen snow?"
Choosing to see the good things in our lives doesn't make the bad go away, nor is it choosing to be blind to the darker side of reality. Choosing to see the good takes the blinders off of our perspective, it allows us to see more. It opens our eyes to see all the good in our lives, in addition to seeing our trials. And when we take note of all the good that still exists in our lives, we become aware of just how much God loves us, despite our trials. We can see that God is aware of the details of our lives, good and bad. This will increase our faith and having a new perspective will provide us with a new vantage point for facing our trials.
"I have found that, rather than dwelling on the negative, if we will take a step back and
consider the blessings
in our lives, including seemingly small, sometimes overlooked blessings, we can find greater happiness."
–President Thomas S. Monson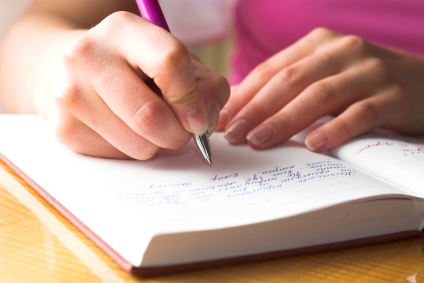 One way to step back and consider the blessings is by keeping a gratitude journal. Learn how to note the little and large blessings throughout your day. I can personally say that keeping a gratitude journal has helped me be more positive and has helped to put my trials in perspective.
On a similar note...
Women's Services and Resources is holding a writing retreat on July 19, from 10 AM – 3 PM in 5519 of the Wilkinson Center. There will be opportunities for self-discovery and self-expression through yoga, meditation and writing. This can be a good start for considering the blessings in your life!